Glazed Chicken with Mashed Potatoes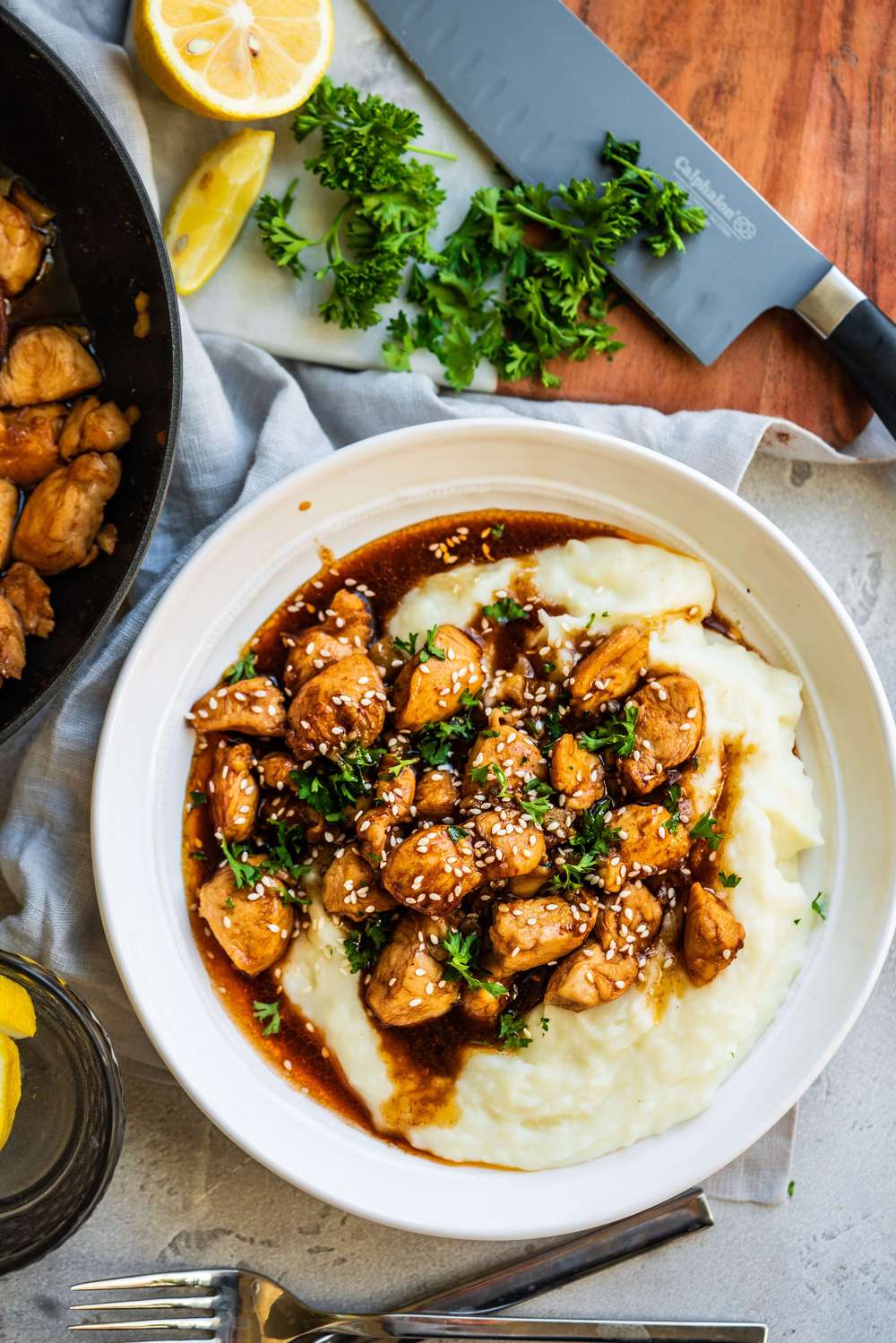 Glazed chicken is one of my favorite recipes as it is pretty easy, fast and delicious. But even such easy recipes as this one can go wrong when you have the water spilled on the stovetop and the chicken as long as the glaze are burnt and after cooking you spend a lot of time cleaning and washing the dishes.

I know what I am talking about, I have been there. Every single time I have been making mashed potatoes the water was spilled over the stove pot. Calphalon Classic™ Nonstick 14-Pc. Cookware Set with No Boil-Over Inserts completely changed the way I cook my potatoes, rice and pasta. The BPA-free silicone insert recirculates boiling water back into the pot, so no more spills! I was able to focus on making the main dish and not worry about the boiling water.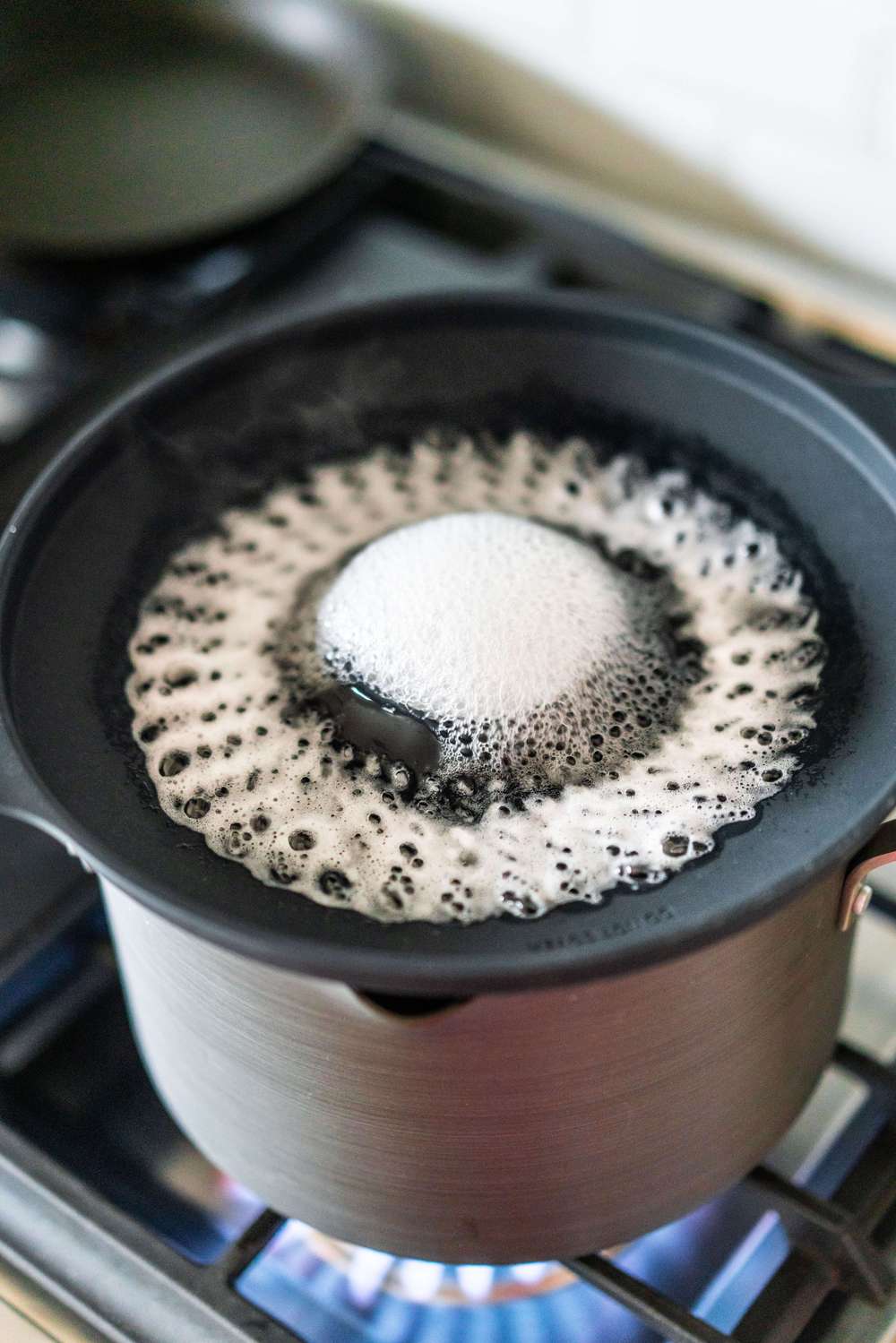 The main dish, right. So, as I have said, this recipe is pretty simple, however, making it with high quality knives and pots makes the process enjoyable and easy. The Calphalon® Contemporary™ SharpIN™ Nonstick 13-Piece Cutlery Set is a block with built-in ceramic sharpeners that automatically sharpen knives with every use, which means slicing your meat and vegetables will never be an issue. All the knives are made with premium materials: they are fully forged, have no-stain German steel and are non stick so the food doesn't stick to the knife!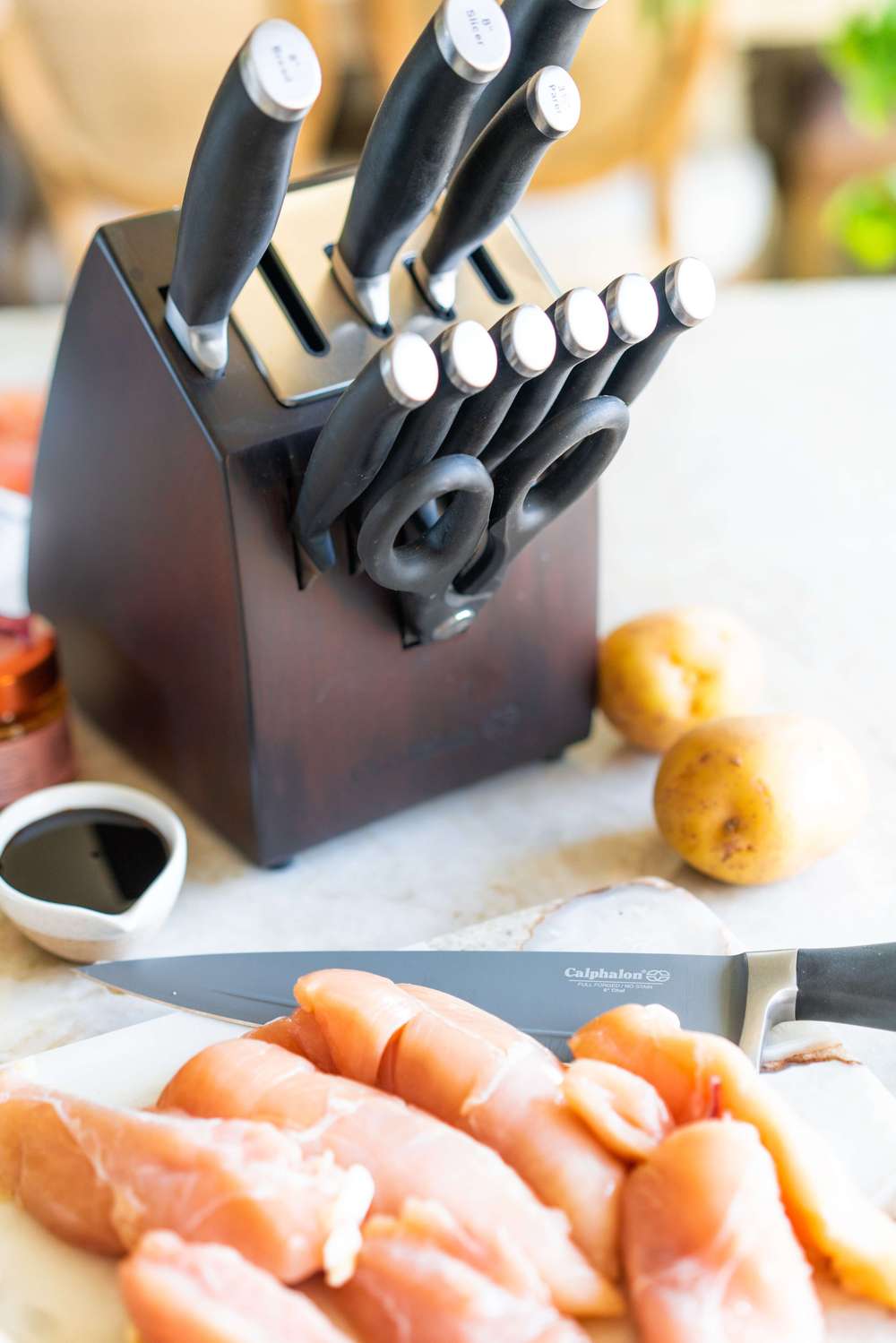 Another issue you might have while cooking the glazed chicken is the burnt chicken and glaze. Timing is very important here so you definitely need a non-stick cookware for this.Calphalon Classic™ Nonstick 10 inch pan did the job perfectly well!
First, I was browning the chicken, and none of the pieces stuck!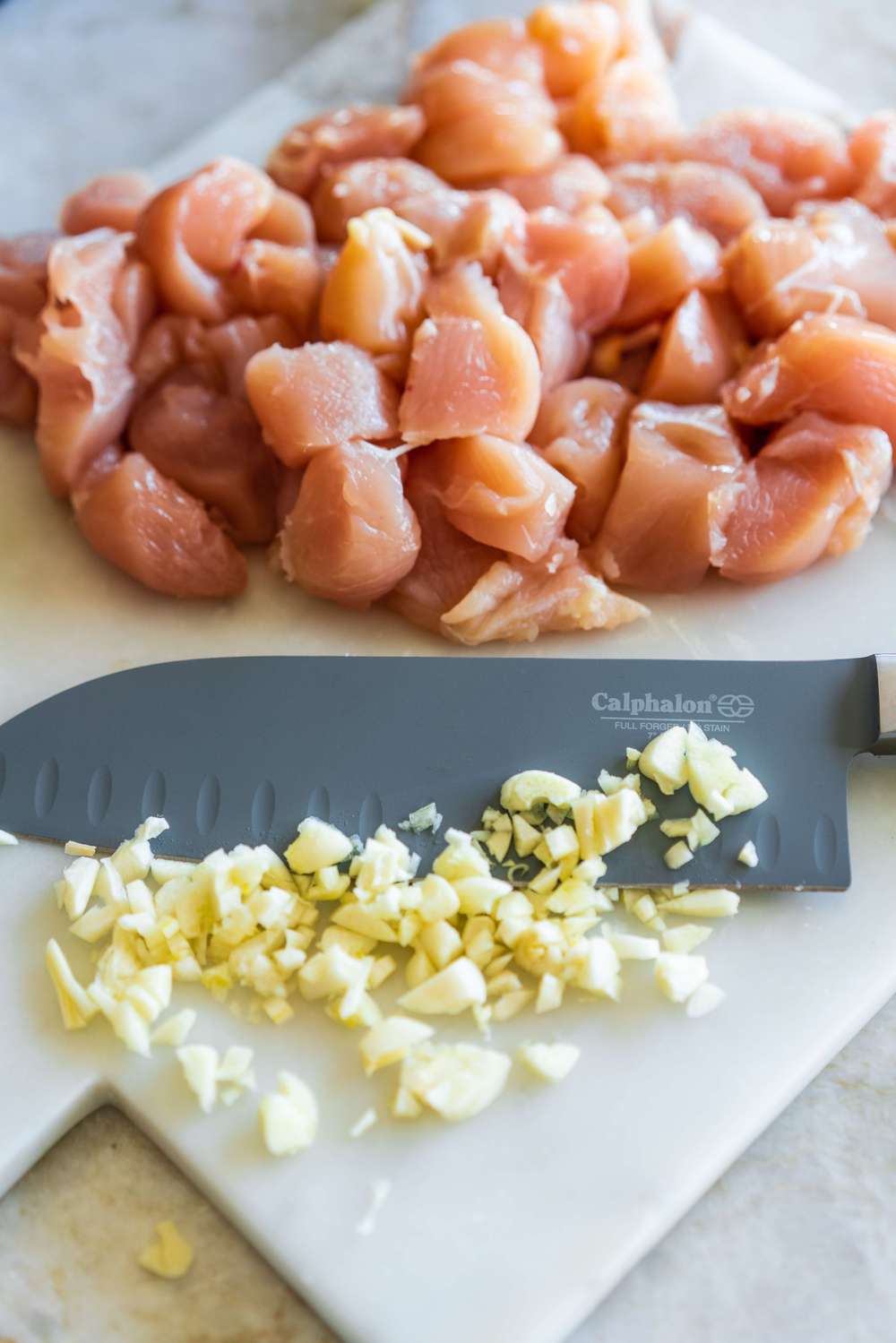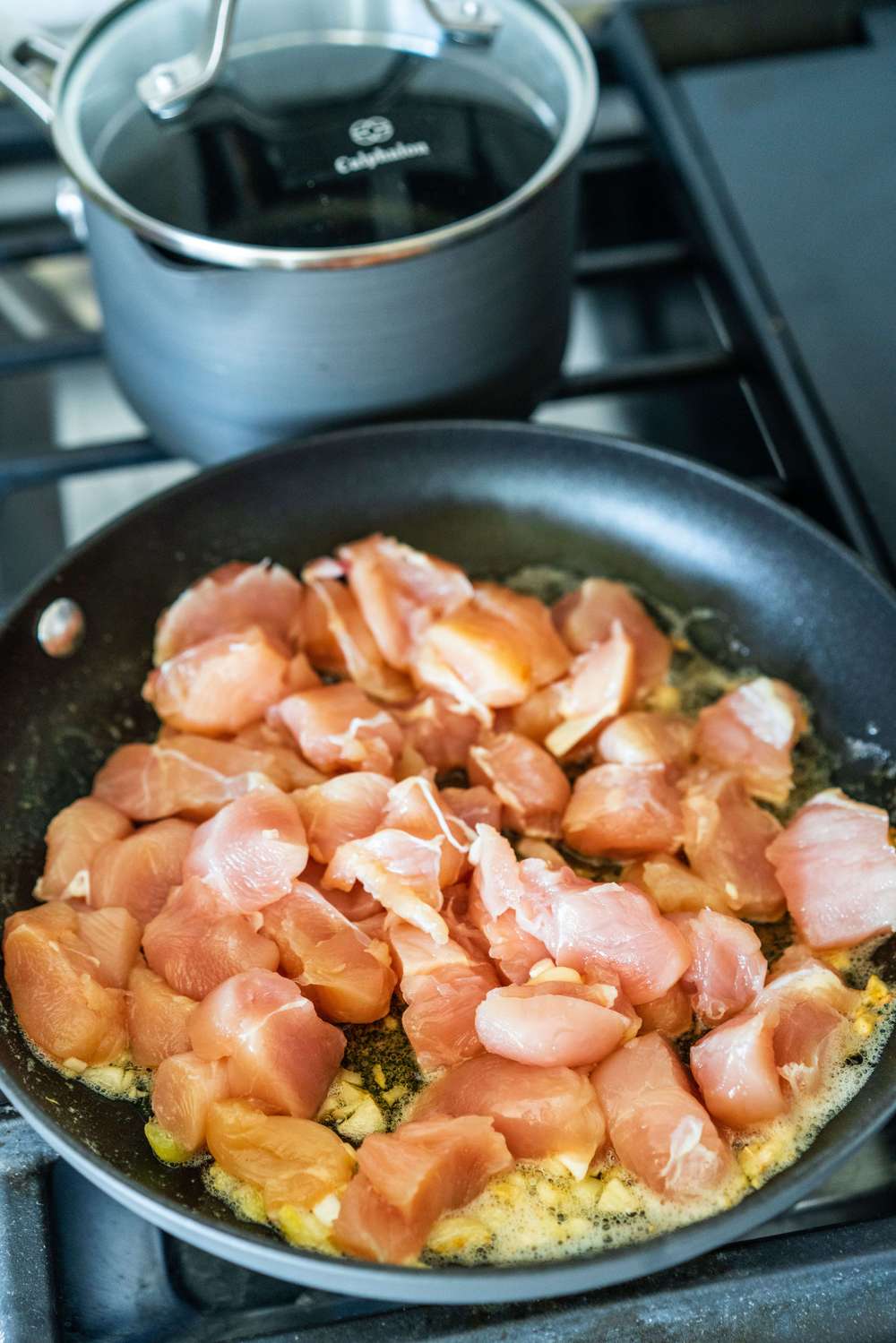 Adding the glazing sauce to the chicken is the key in this recipe, but it often happens that the glaze starts burning pretty quickly, but not this time. It was cooked perfectly well, adding the sweet and sour taste to the chicken. Calphalon Nonstick cookware is constructed from hard-anodized aluminum and features convenient measuring marks, pour spouts, tempered glass lids with integrated strainers, and handles that stay cool while cooking on the stovetop.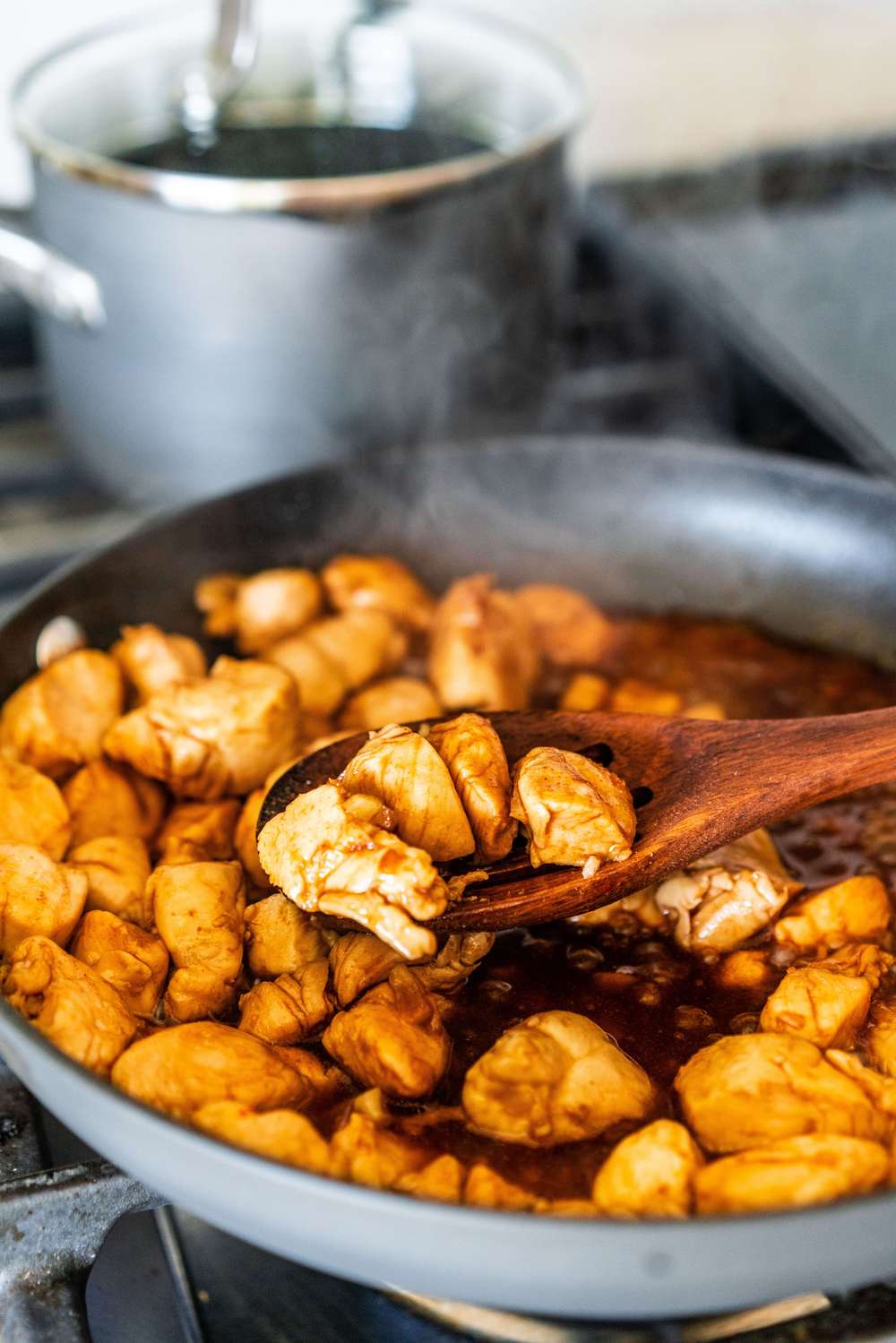 Glazed chicken with mashed potatoes.
Ingredients:
chicken breasts, 2

honey, 3 tbsp

coconut aminos, 2 tbsp

garlic cloves, 4, minced

sesame oil, 2 tbsp

sesame seeds, 2 tbsp

parsley, 1 tbsp
Method:
Cut the chicken breasts into small cubes. In a small bowl, mix together honey, coconut aminos, minced garlic. In a large pan, heat sesame oil. When oil is shimmering, add the chicken breasts and for 3-4 minutes, stirring frequently. Then add the sauce mix to the pan with chicken, and stir. Cook for 3-4 minutes until chicken is cooked though in a glaze, then top with sesame seeds. Remove chicken from pan and serve with mashed potatoes, top with chopped parsley. Enjoy!
This post is sponsored by Calphalon. All opinions are mine.