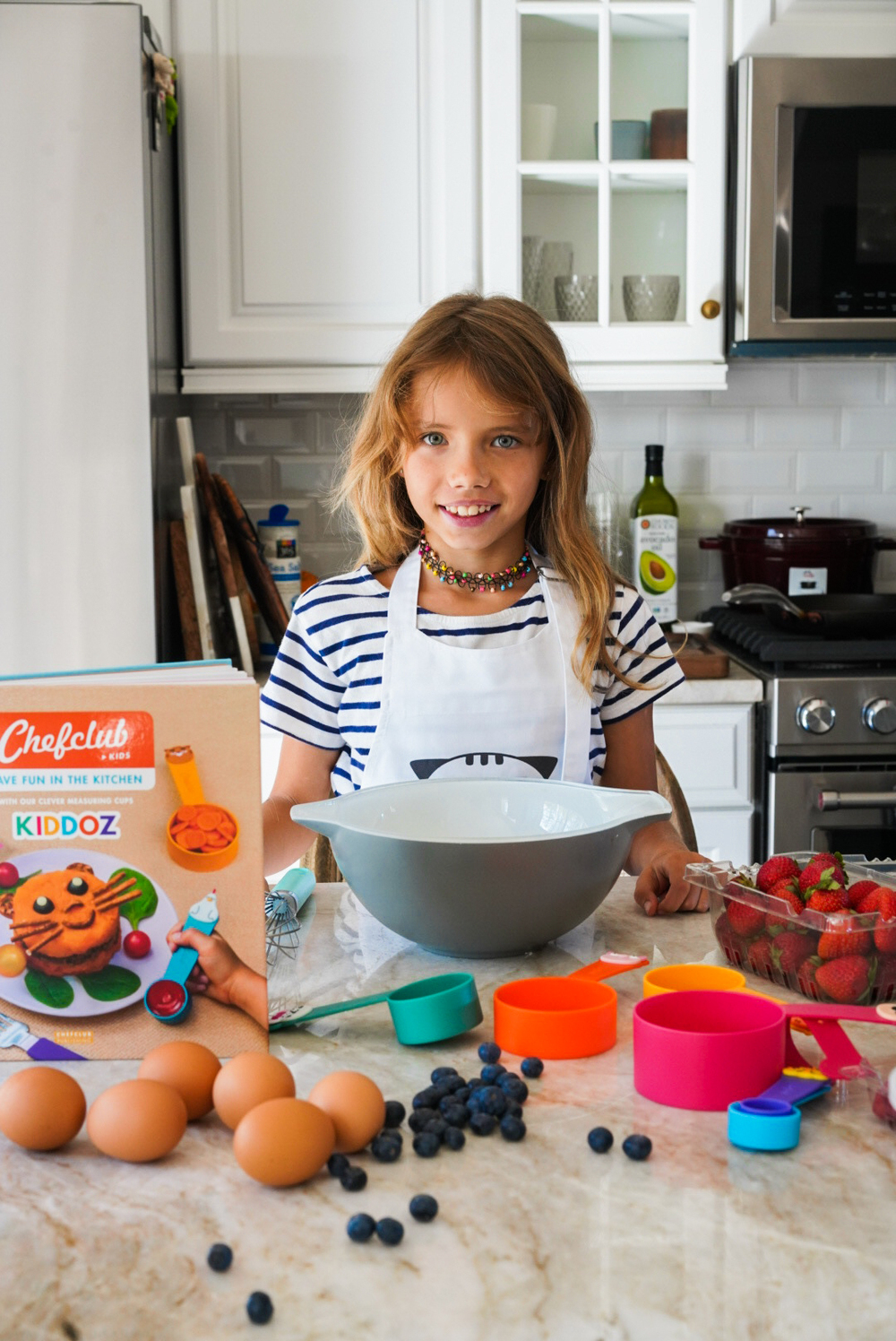 Guys, I have something to ask: how often do your kids help you in the kitchen? Do they love cooking? Can they make a meal from the beginning to the end by themselves?
It is very important to me to spend more time together with the family, and I believe kitchen is a great place to gather all together. Soooooo many kids are into gadgets, TVs and video games right now and I am always looking for the ways to entertain my 8 years old daughter Eva and to spend quality time with her. Being very busy with her modeling career and going to NYC back and forth several times a week almost doesn't leave us a lot of time to go somewhere and we spend most of the evenings at home. Luckily, she really loves cooking, specially baking (her Grandma is a professional baker) so when I heard of Kiddoz by Chefclub I was beyond excited!
I have received a kit for cooking with included a cookbook with 20 kid friendly recipes with step by step instructions, 6 colorful measuring cups and an application with more recipes!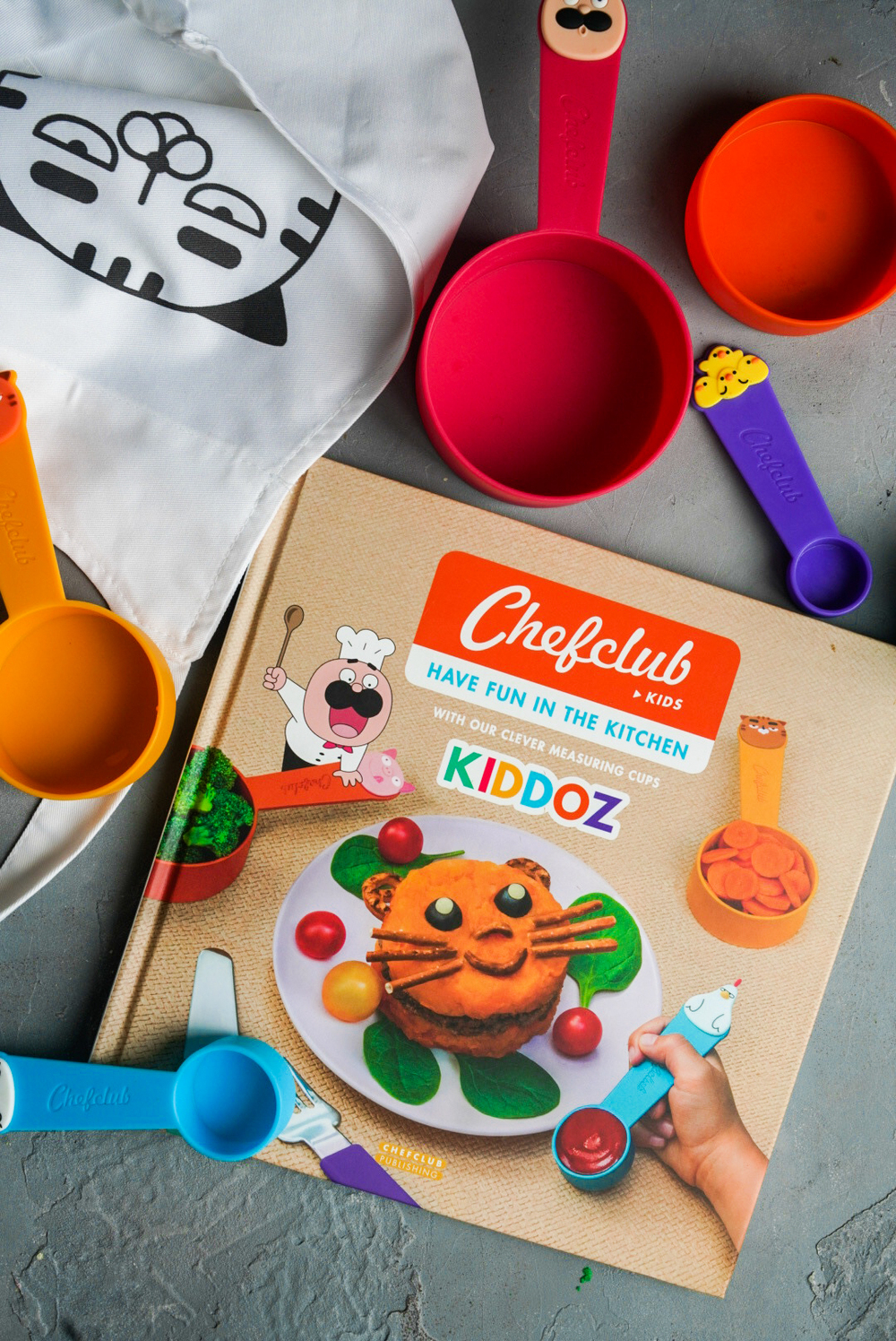 Aren't these measuring cups cute? I can't imagine a kid who would not want to cook with such great tools!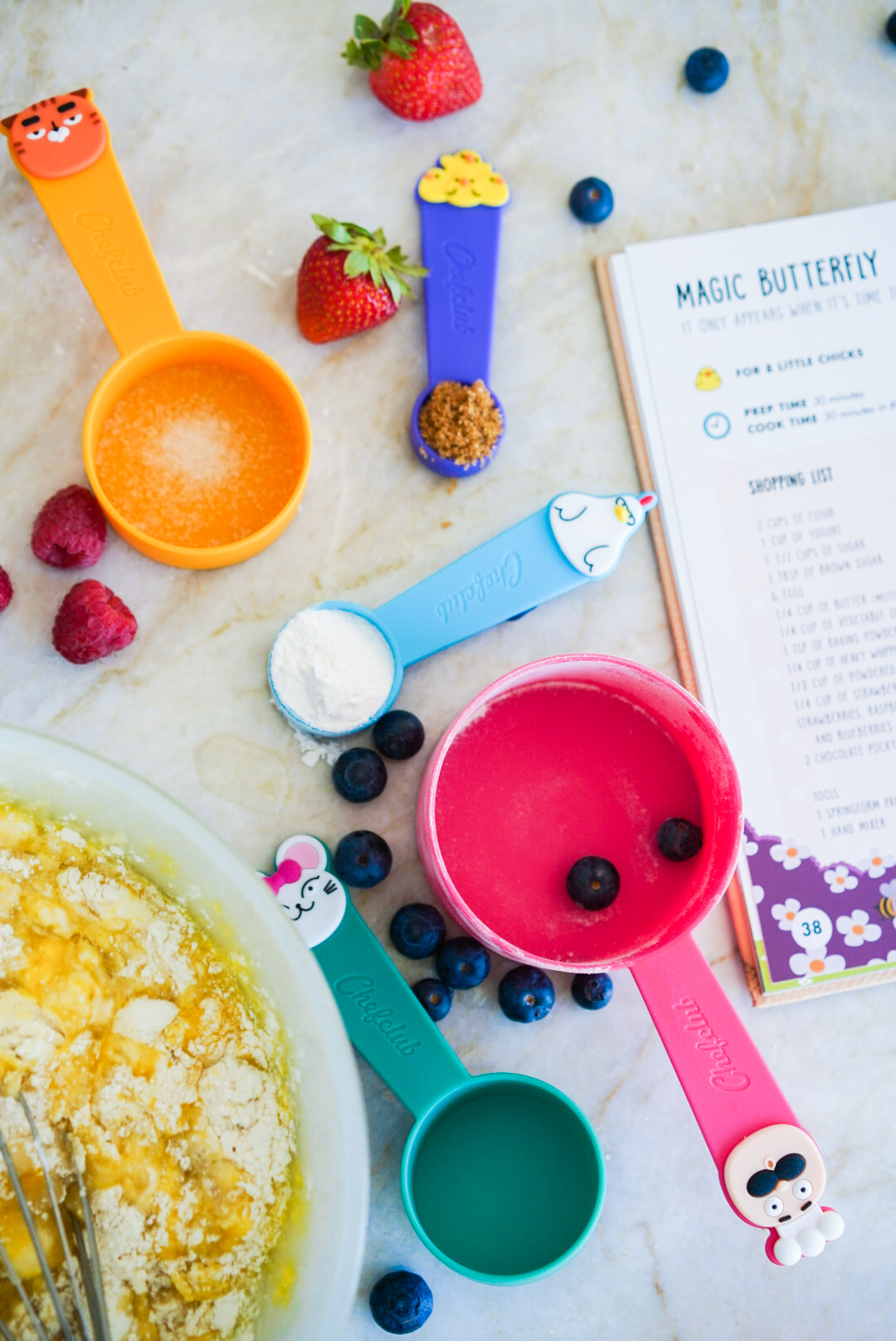 We looked through all the recipes and were surprised how simple yet healthy they are: so many fruits and vegetables are among the ingredients! Yay!
So, as I have said, as Eva is a huge baking fan, we decided to make a Butterfly Cake and I enjoyed every minute of watching my girl taking charge in the kitchen.
This book is fantastic!!!! On the first page there is a list of the ingredients and tools needed, so she read it, copied on a sheet of paper and we did groceries together, where she was able to get everything ready for her cake. On a second page, there are illustrations of easy-to-follow steps so I didn't even have to help her.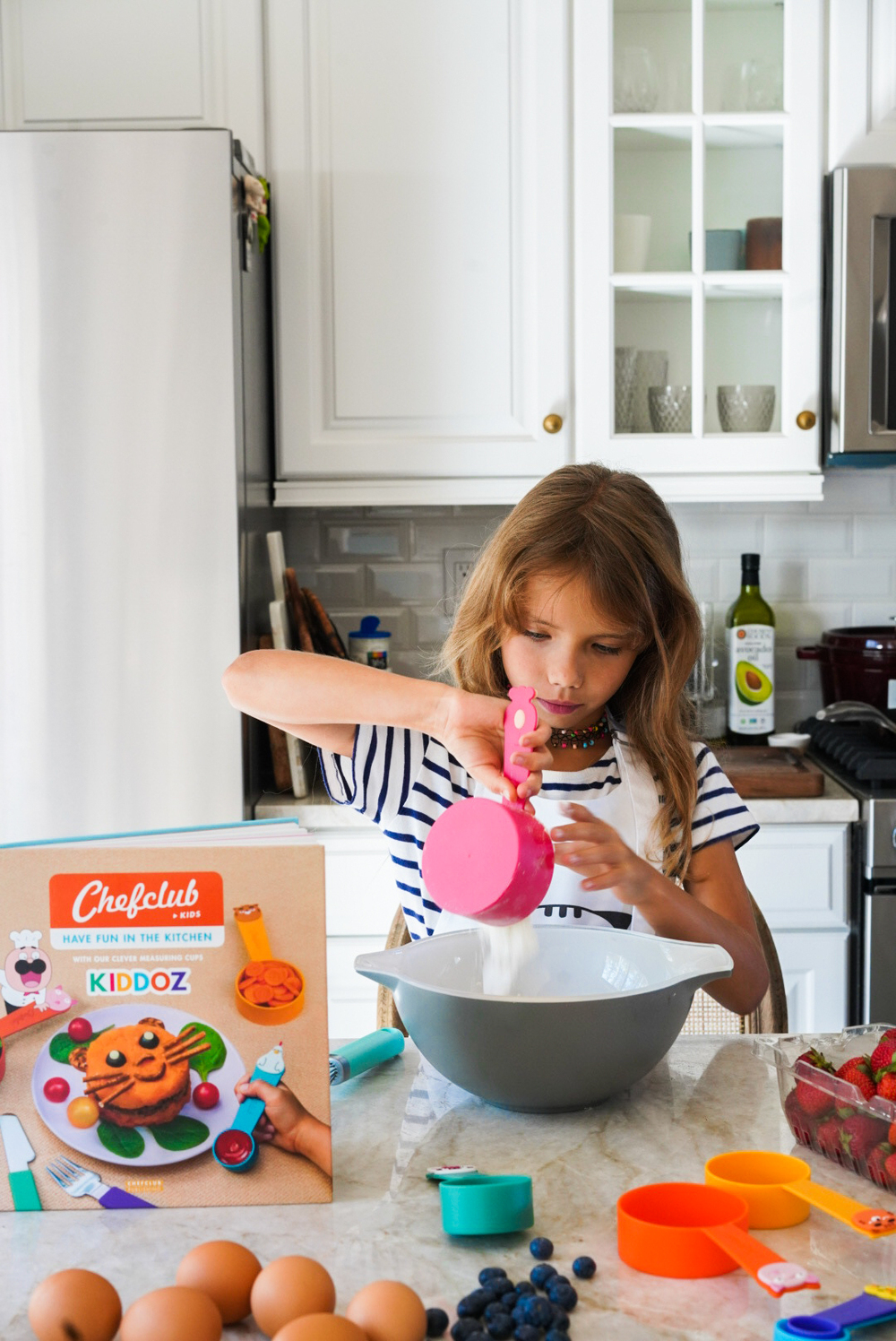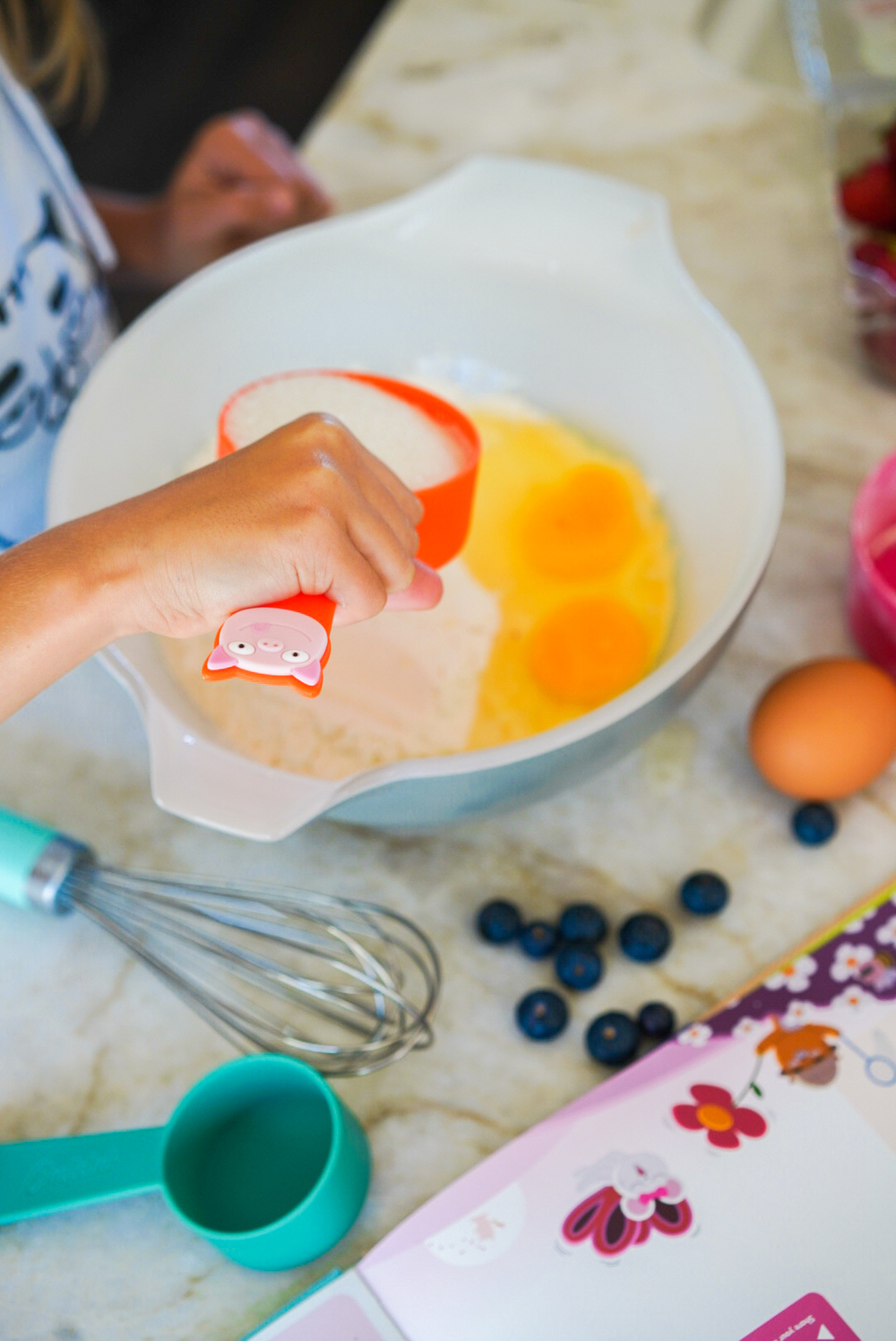 To tell the truth, once I wanted to help her to measure the flour, but she said "NO" and added she can do everything by herself! As a photographer and stylist with 7 years experience I know how baking can be tricky, specially if you are not quite stick to the recipe. I was so excited to see how she is gonna make it work, but the book and funny characters on the measuring cups really help and the batter was ready in 10 minutes. Quick for a kid, right?
Should I say I was impressed that it was baked PERFECTLY??!! I mean, I would even keep the cake recipe for my own records as its very easy to make and very fragrant and delicious.
The decoration process was so much fun! We used fresh blueberries, raspberries and strawberries, and when Eva was finished, the colorful butterfly was ready!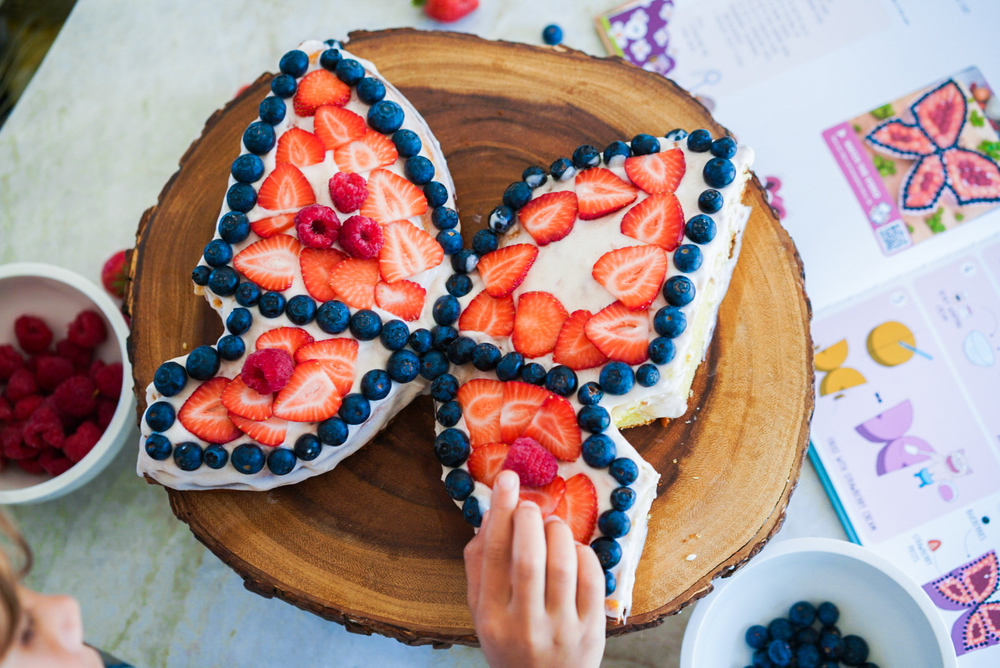 I literally can't find enough words to say HOW MUCH our family enjoyed cooking with KIDDOZ! My daughter was so proud of herself for baking the whole cake from scratch and then she invited her friends and everyone loved it! What else does a mom need when she watches her kid getting compliments for a great cooking job and who was shining like a star that moment?
By this absolutely honest review we want to thank KIDDOZ for sending us their cooking kit and for gifting us such warm, unforgettable moments with the family. I can't wait for cold wintery nights when we all will stay home and create something funny and yummy all together. Again and again.