Vanilla and Lemon Easter Cupcakes with Vanilla Frosting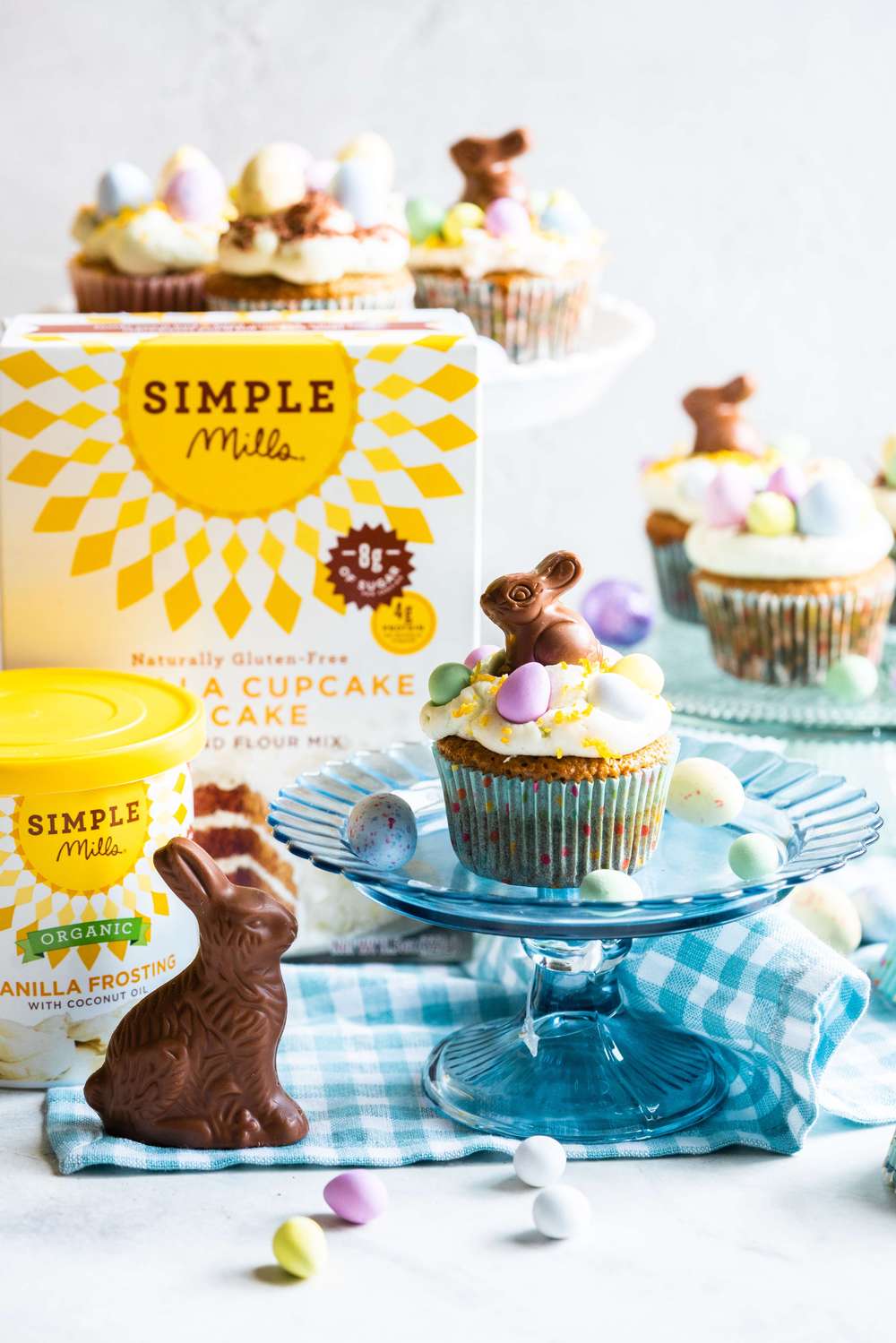 Spring is one of my favorite seasons: the sky is always blue, the trees are in bloom, the birds are singing, and it is time for Easter egg hunt! When we moved to the USA 7 years ago I had no idea there was such a great Easter tradition to collect the eggs and meet the Easter bunny, so every year all our family is waiting for April to celebrate this wonderful holiday. Needless to say that I always have to think what to bake for Easter. My daughter is 7 so she is very much involved in the cooking process (thank God I have a helper now), that's why I am trying to find the recipes that are not very complicated for her but are healthy and delicious.
Simple Mills mixes are our lifesavers: we always have some in our pantry, and in case we want to bake something, it is the easiest way to go. And what is more important to me - the healthiest ingredients.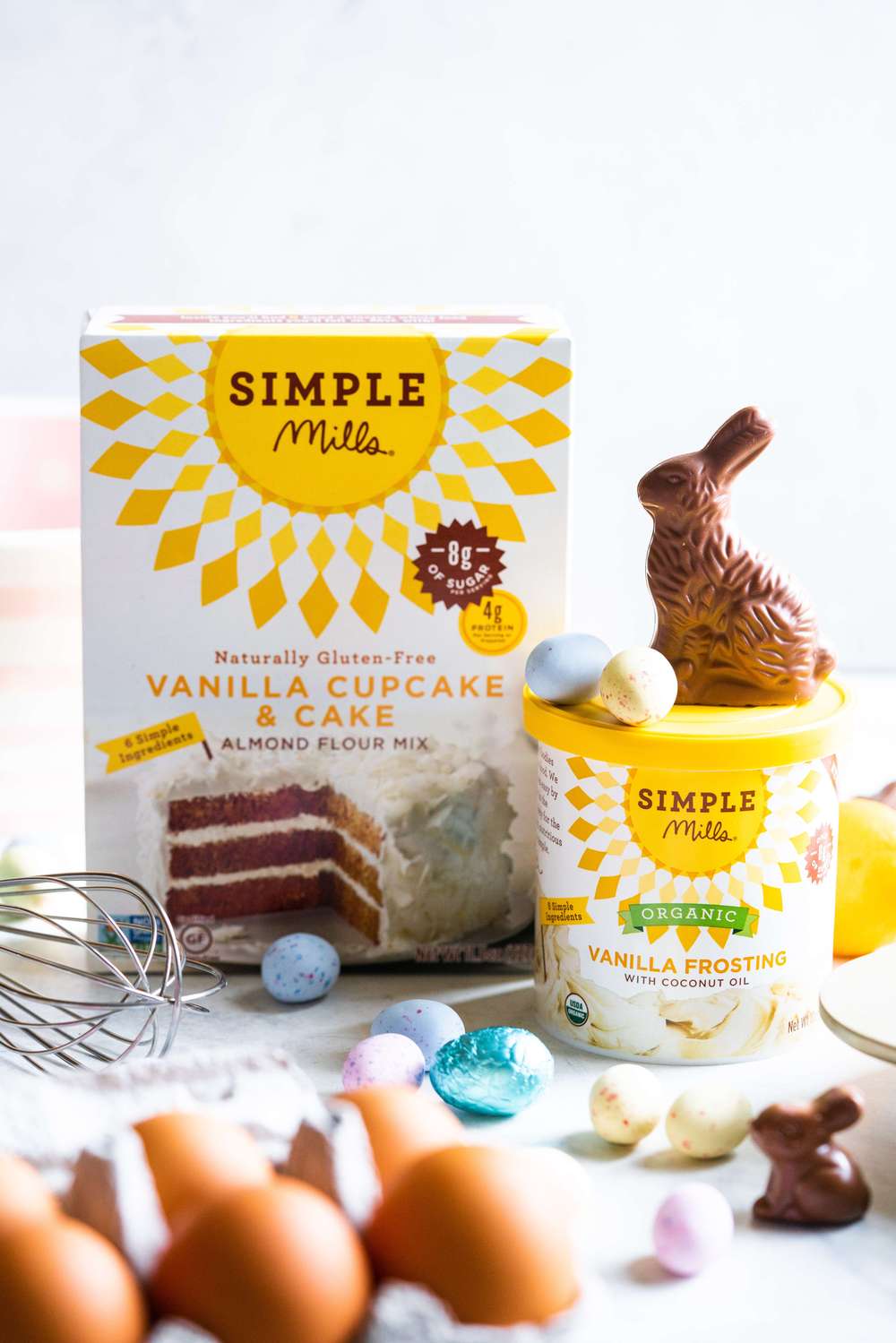 Let me tell you some facts about Simple Mills. They use ONLY simple, natural ingredients in their mixes as they believe that if you don't recognize the ingredient, your body won't either (and I couldn't agree more!), so they only include things that nourish you. You will never find anything artificial in their products, and besides this everything you will make using Simple Mills products tastes really great! And if you have kids, you definitely know how hard it is to find clean, real food that your picky kids will approve, right?
So, this time my daughter wanted to make fun and cute Easter cupcakes she can share with her friends, so we decided to go with Simple Mills Vanilla Cake & Cupcake Mix and Vanilla Frosting and to add some lemon flavorings there for a fresh, citrus flavor. The package includes only 6 simple ingredients: almond flour, organic coconut sugar, arrowroot, organic coconut flour, baking soda and salt. That's it! Oh, did I mention it is gluten-free? So, if you don't consume any gluten, it's a great option for you. All you have to do is to add 3 eggs, some water, vegetable oil and vanilla to make the batter. This time I decided to substitute the vanilla and added some lemon zest and fresh lemon juice from meyer lemons. I recommend adding meyer lemon zest and juice here for the sweeter and less acidic flavor. When the batter is ready (like in 1 minute), simply spoon the batter into 12 paper-lined muffin cups and bake them for 17 minutes, let cool down completely and decorate the way you want. This time we've been using Simple Mills Vanilla Frosting, which is made of coconut oil, and some lemon zest, shredded dark chocolate and Easter candies. Seriously, it took us about 30 minutes to make these fragrant, fluffy, healthy and yummy cupcakes! Mmmm, I only wish we have made more as they were gone too quickly!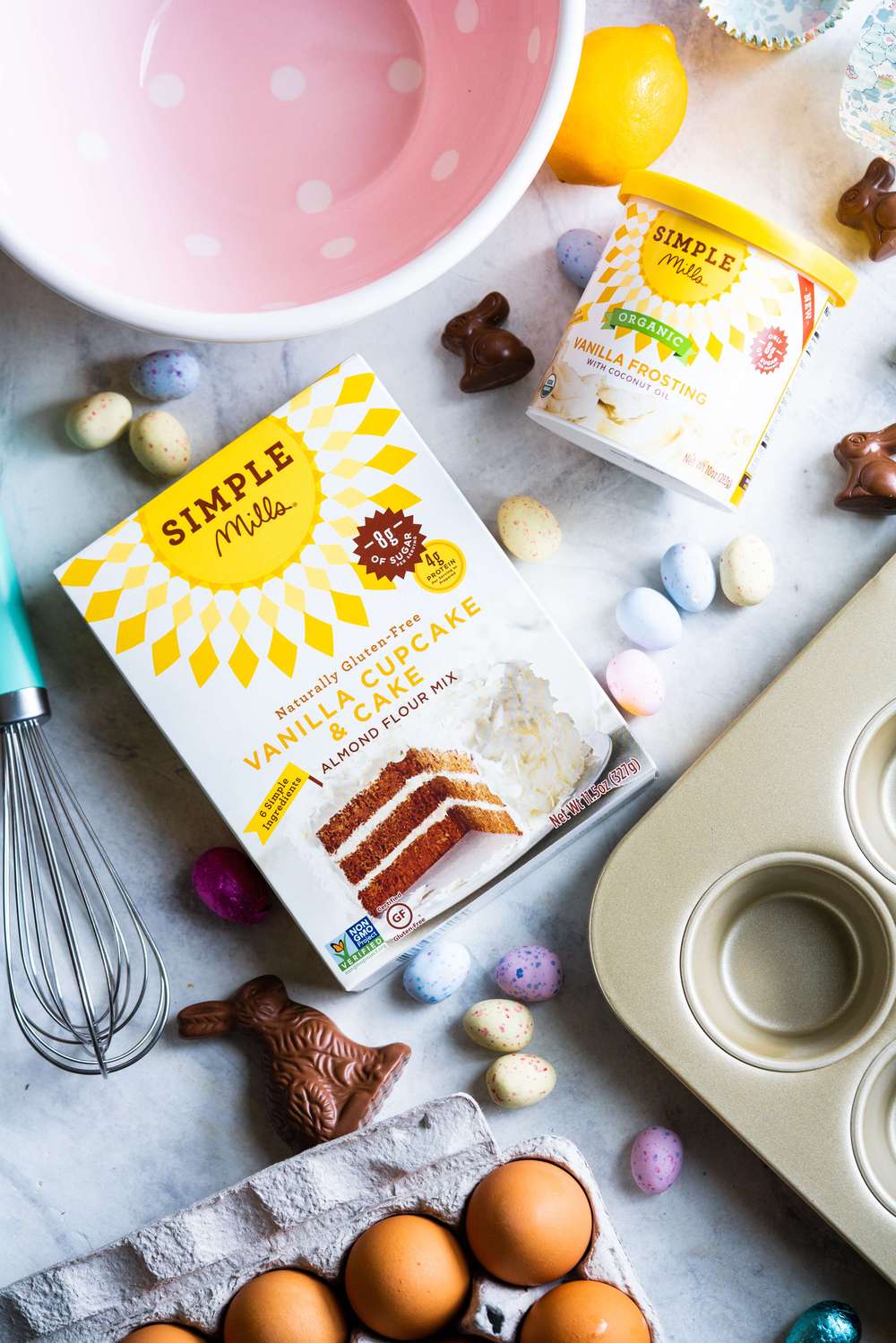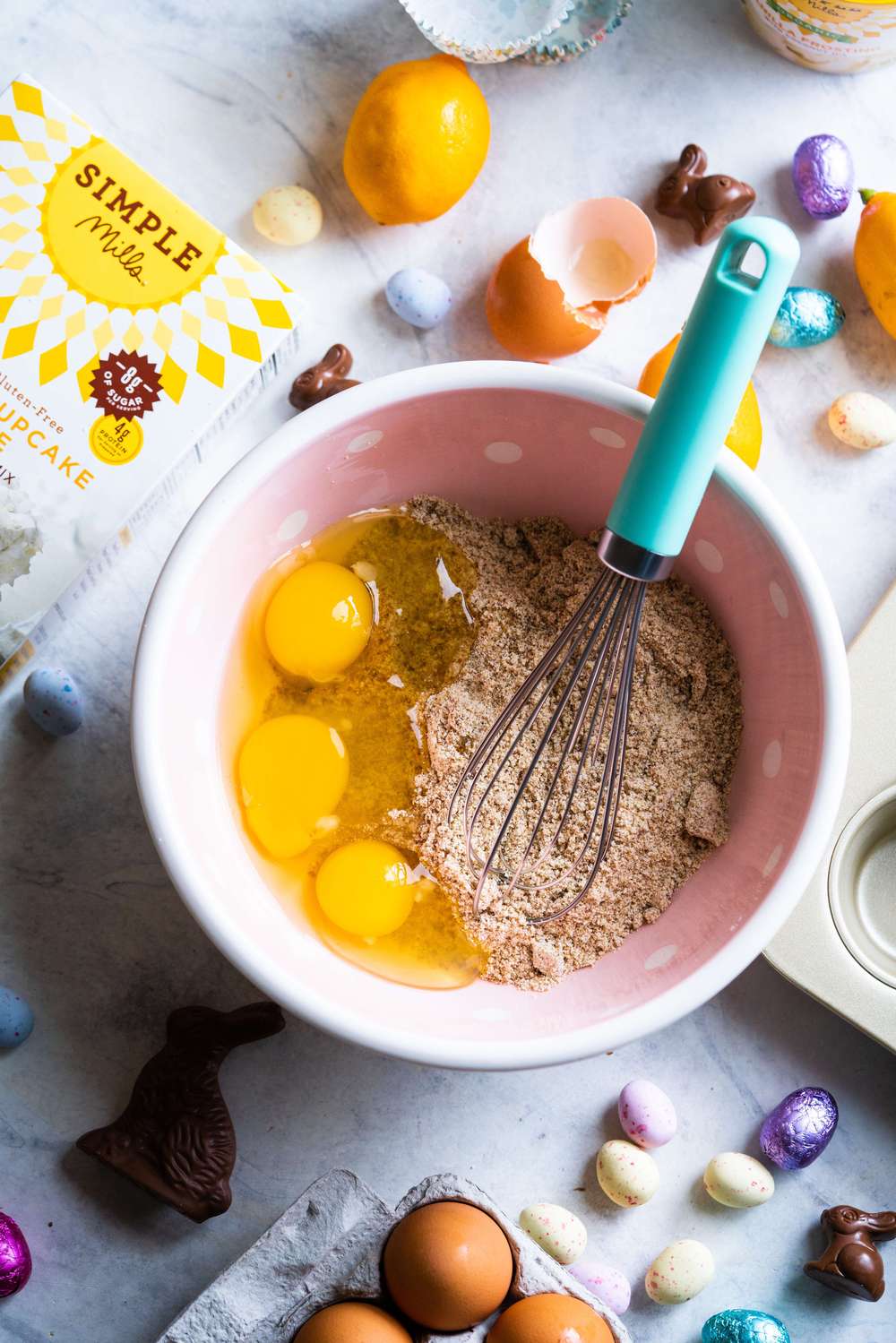 Recipe:
Ingredients:
- 3 eggs
- 1/3 cup grapeseed oil
- 1/3 cup of water
- 1 tbsp fresh squeezed meyer lemon juice
- Zest of 2 meyer lemons
- 1 Simple Mills Vanilla Cake & Cupcake Mix
- 1 Simple Mills Vanilla frosting
- Dark chocolate, shredded (for decoration)
- Meyer lemon zest (for decoration)
- Easter chocolate candies (for decoration)
Method:
Preheat oven to 350 F. In a large bowl, whisk together eggs, oil, water, lemon juice and lemon zest. Add baking mix and whisk until well blended. Spoon batter into 12 paper-lined muffin cups, filling each 2/3 full and bake for about 17 minutes. Let them cool completely. Decorate with vanilla frosting, shredded chocolate, lemon zest and candies. Enjoy!